Fired-up Langton calls in lawyers over racism slur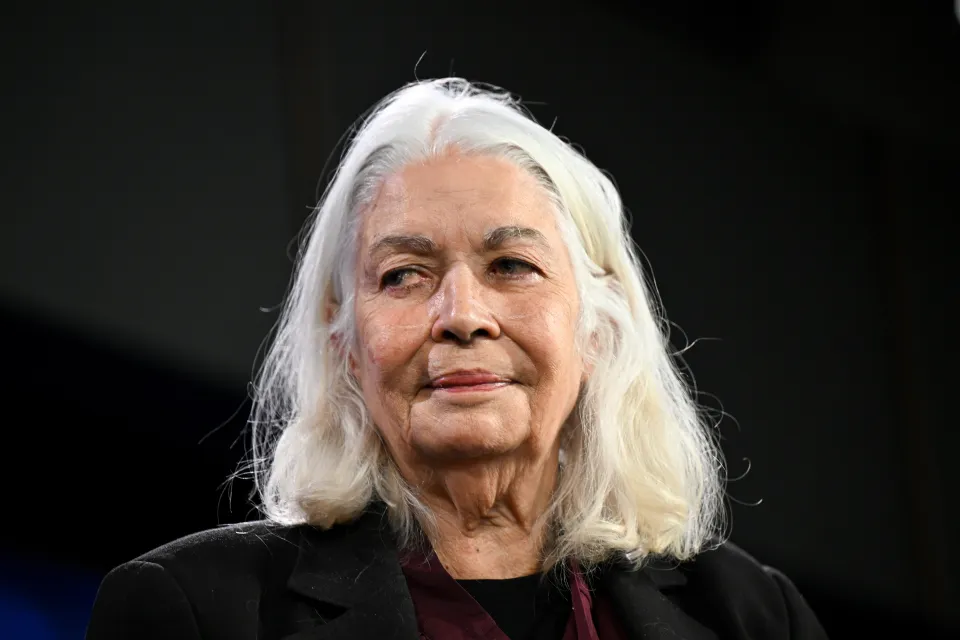 Indigenous leader Marcia Langton has blasted "misreporting and lies" about her Voice campaigning, amid a storm over a speech in Western Australia.
Langton said it was "deeply disappointing" to see her comments misinterpreted as labelling those who are against the Voice as racist or stupid.
It follows a story in The Australian on Tuesday that was based on a talk Langton gave in WA last Sunday. The speech was reported by the Bunbury Herald, which Langton said misrepresented her comments.
"Every time the No cases raise their arguments, if you start pulling it apart, you get down to base racism – I'm sorry to say that's where it lands – or sheer stupidity," she told the gathering.
"If you look at any reputable fact-checker, every one of them says the No case is substantially false, they are lying to you."
The comments were reported by The Australian on Wednesday in a story headlined "No voters branded racist, stupid". Opposition Leader Peter Dutton used an image of the story in an Instagram post.
On Tuesday, Deputy Opposition Leader Sussan Ms Ley told Parliament that Langton had labelled "those advocating a no position as either 'racist' or 'stupid'".
"I challenge anyone to consider those remarks and not feel insulted by them," she told Sky News on Wednesday, adding that the Coalition wasn't part of the official No campaign.
Ley also repeated her call for Indigenous Australians Minister Linda Burney to remove Langton from the government's referendum working group for "denigrating" the no campaign.
"We need a respectful debate," she said.
But Langton said the headline did not reflect what she said. She said the paper had changed it "three times I believe" and it had been rewritten "three times". Dutton's post remained live on Wednesday.
"Today, I will have to go to a lawyer and ask a lawyer to write to Peter Dutton, requesting that he removed this post from his Instagram because it is absolutely not true," Langton told Radio National on Wednesday.
"I deny it absolutely. And as you say, there is a recording of what I said at the Bunbury meeting. And what I said is very clear.
"I was explaining how the No campaign is using fears and lies to to frighten No voters into voting No, that the No campaign is claiming that this our proposition in the referendum will create apartheid and so it's very important to answer people's questions and explain exactly how this kind of the [campaign] works."
Langton repeatedly stressed her view that most Australians are not racist.
"It is my greatest hope that the majority of Australians are not racist. And in fact, you know, having spoken to thousands of people I am absolutely convinced that most Australians are not racist," she said.
The latest storm follows a story in the Nine newspapers on Tuesday that claimed No campaign organisers are directing volunteers to use fear to dissuade voters from supporting the Voice. It sparked heated debate in Parliament, amid allegations the campaign is peddling lies to sink next month's referendum.
Prime Minister Anthony Albanese denounced the No campaign as "cynical and shameful" following the reports.
"[Former US presidential advisor] David Axelrod described democracy as an ongoing battle between cynicism and hope. It's hard to imagine a more perfect demonstration than this referendum," he said on Tuesday.
He said he was not surprised the Coalition had resorted to a fear campaign centred on division.
"The referendum isn't about [Dutton], and it's not about me. It's about an idea that came from the people, and it will be decided by the people," he said.
"Indigenous people … wanted constitutional recognition with substance, not just with symbolism, and that's what the Voice is about."
Ley stood by her comments on Wednesday.
"It sounds as though Marcia Langton's defence of her remarks is that she didn't call No voters racist or stupid, she just called the arguments racist and stupid, and described them as the arguments at the heart of the No campaign," she said.
"Australians deserve explanations, not insults. And this sounds very much like an insult to people who are in all good conscience considering, or have made up their mind, to vote No."
Meanwhile, an easy-read version of the Uluru Statement from the Heart will be launched on Wednesday, allowing people living with a disability to read the document.
The version has been designed by the First Peoples Disability Network, along with Indigenous people and people with intellectual disabilities.
The Uluru Statement, which was signed in 2017 by Indigenous leaders from across the country, called for constitutional recognition for Indigenous people through a voice to parliament.
– with AAP