Kim hails 'strategic importance' of Russia relations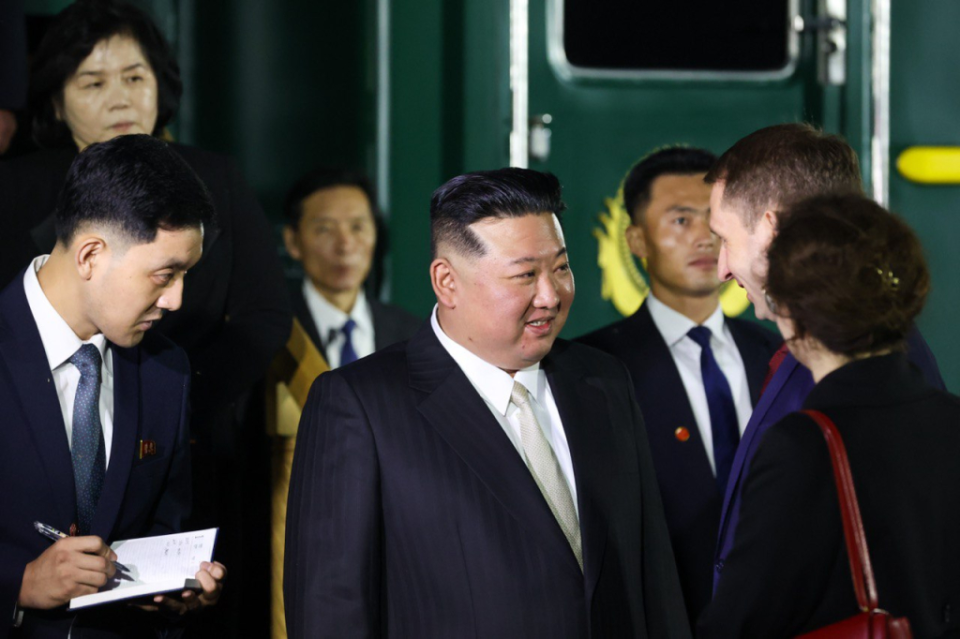 North Korean leader Kim Jong-un says his visit to Russia was a clear show of the "strategic importance" of the two countries' relations, state media KCNA reported.
Kim arrived in Russia by private train on Tuesday for talks with President Vladimir Putin amid warnings from Washington the two countries should not trade weapons.
"Kim Jong-un said his visit to the Russian Federation … is a clear manifestation of the stand of the WPK and the government of the DPRK prioritising the strategic importance of DPRK-Russia relations," the KCNA report said.
The DPRK stands for North Korea's official name, the Democratic People's Republic of Korea, while the WPK is the Workers' Party of Korea, the sole ruling party in the reclusive country.
Images released by KCNA showed Kim arriving at the train station in the border town of Khasan on Tuesday morning and being greeted by senior officials from Moscow and elsewhere.
He is also shown meeting with Russia's Natural Resources Minister Alexander Kozlov.
His movements since are unclear but Japan's Kyodo news agency and South Korean media have reported that he might meet Putin at the Vostochny cosmodrome in eastern Russia.
The trip marks Kim's first visit to Russia in nearly four years and his first foreign visit after the worldwide public health crisis, according to KCNA, referring to the COVID-19 pandemic.
His visit seeks to put DPRK-Russia relations of friendship and co-operation on a "fresh higher level," the report said.
Discussions could cover humanitarian aid to North Korea and the United Nations Security Council resolutions imposed against the North, Russian officials said.
US officials, who first said the visit was imminent, said arms talks between Russia and North Korea were actively advancing and that Kim and Putin were likely to discuss providing Russia with weapons for the war in Ukraine.
There has been no confirmation of the site of the summit but Kim's train passed the junction for Russia's Pacific port of Vladivostok, where Putin was attending a conference, and headed northwards, Japan's Kyodo news and South Korean media reported, saying he might meet Putin at the Vostochny cosmodrome.
The make-up of Kim's delegation, including top defence industry and military officials with the notable presence of Munitions Industry Department Director Jo Chun Ryong, suggested an agenda heavy on defence industry co-operation, analysts said.
South Korean President Yoon Suk-yeol's office said many countries were watching with concern the summit between "North Korea which has been sanctioned by the United Nations, and Russia, which is a permanent member of the Security Council".
– AAP